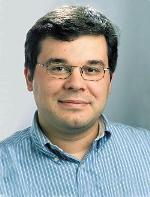 Dimitrios Gunopulos
Professor
Director, DSIT Master's Program (dsit.di.uoa.gr)
Education
Ph.D. in Computer Science, November 1995, Princeton University, Princeton, N.J.
Thesis title: "Computing the Discrepancy."
Advisor: David P. Dobkin.
M.A., October 1992, Princeton University, Princeton, N.J.
Computer Engineering and Informatics Diploma, 1990, University of Patras, Greece.
Academic Experience
Dimitrios Gunopulos is currently a Professor in the Department of Informatics and Telecommunications, University of Athens.
He got his PhD from Princeton University in 1995. He has held positions as a Postoctoral Fellow at the Max-Planck-Institut for Informatics, Visiting Researcher at the University of Helsinki, Research Associate at the IBM Almaden Research Center, and joined the Department of Computer Science and Engineering in the University of California Riverside as an Assistant Professor in 1999 where he became an Associate Professor (with tenure) and a Full Professor.
His research is in the areas of Data Mining, Knowledge Discovery in Databases, Databases, Sensor Networks, Peer-to-Peer systems, and Algorithms. He has developed clustering, classification and indexing techniques for high-dimensional and object trajectory data, data analysis tools for sensor networks, and is currently working on blog and document analysis problems. He has co-authored over a hundred journal and conference papers that have been widely cited and a book. He has supervised 8 Ph.D. Theses and 18 MS theses. His past students currently hold academic positions or are employed in top industry labs.
His research has been supported by NSF (including an NSF CAREER award), by the DoD, by the Institute of Museum and Library Services (he participated in the design of the Infomine Project - www.infomine.ucr.edu), by the Tobacco Related Disease Research Program, by the European Commission (he participated in the projects MODAP - www.modap.org -, SemsorGrid4Env - www.semsorgrid4env.eu -, Health-e-Child - www.health-e-child.org -, and DBGlobe - www.softsys.uoi.gr/dbglobe/), by AT&T, and by Nokia. He has served as a General co-Chair in the IEEE ICDM 2010 conference, as a PC co-Chair in the ECML/PKDD 2011, IEEE ICDM 2008, ACM SIGKDD 2006, SSDBM 2003, and DMKD 2000 conferences, and as an Associate Editor at the Springer KAIS, IEEE TKDE, IEEE TPDS, and ACM TKDD journals.
Publications
An almost complete listing of my publications can be found here: DBLP, Google Scholar.

Some indicative publications of the last decade are listed below:
Georgios Chatzimilioudis, Nikos Mamoulis, Dimitrios Gunopulos: A Distributed Technique for Dynamic Operator Placement in Wireless Sensor Networks. Mobile Data Management 2010: 167-176
Theodoros Lappas, Dimitrios Gunopulos: Efficient Confident Search in Large Review Corpora. ECML/PKDD (2) 2010: 195-210
Theodoros Lappas, Benjamin Arai, Manolis Platakis, Dimitrios Kotsakos, Dimitrios Gunopulos: On burstiness-aware search for document sequences. KDD 2009: 477-486
Panagiotis Papapetrou, George Kollios, Stan Sclaroff, Dimitrios Gunopulos: Mining frequent arrangements of temporal intervals. Knowl. Inf. Syst. 21(2): 133-171 (2009)
Benjamin Arai, Gautam Das, Dimitrios Gunopulos, Nick Koudas: Anytime measures for top-k algorithms on exact and fuzzy data sets. VLDB J. 18(2): 407-427 (2009)
Song Lin, Benjamin Arai, Dimitrios Gunopulos, Gautam Das: Region Sampling: Continuous Adaptive Sampling on Sensor Networks. ICDE 2008: 794-803
Vassilis Athitsos, Panagiotis Papapetrou, Michalis Potamias, George Kollios, Dimitrios Gunopulos: Approximate embedding-based subsequence matching of time series. SIGMOD Conference 2008: 365-378
Benjamin Arai, Song Lin, Dimitrios Gunopulos: Efficient Data Sampling in Heterogeneous Peer-to-Peer Networks. ICDM 2007: 23-32
Gautam Das, Dimitrios Gunopulos, Nick Koudas, Nikos Sarkas: Ad-hoc Top-k Query Answering for Data Streams. VLDB 2007: 183-194
Sharmila Subramaniam, Themis Palpanas, Dimitris Papadopoulos, Vana Kalogeraki, Dimitrios Gunopulos: Online Outlier Detection in Sensor Data Using Non-Parametric Models. VLDB 2006: 187-198
Michail Vlachos, Marios Hadjieleftheriou, Dimitrios Gunopulos, Eamonn J. Keogh: Indexing Multidimensional Time-Series. VLDB J. 15(1): 1-20 (2006)
Rakesh Agrawal, Johannes Gehrke, Dimitrios Gunopulos, Prabhakar Raghavan: Automatic Subspace Clustering of High Dimensional Data. Data Min. Knowl. Discov. 11(1): 5-33 (2005)
Michail Vlachos, Dimitrios Gunopulos, Gautam Das: Rotation invariant distance measures for trajectories. KDD 2004: 707-712
Marios Hadjieleftheriou, George Kollios, Vassilis J. Tsotras, Dimitrios Gunopulos: Efficient Indexing of Spatiotemporal Objects. EDBT 2002: 251-268
Dimitrios Gunopulos, Gautam Das: Time Series Similarity Measures and Time Series Indexing. SIGMOD Conference 2001: 624
Projects
Theses / Dissertations
If you like what we work on, you should consider joining our group for your BSc. / MSc. thesis.